A deck for the 47 prefectures of Japan, and the regions they are located in. This deck uses an interactive map of Japan, so you can either enter the prefecture names, or locate them by clicking on the map.

(This deck uses experimental features of Kitsun, visit the forums if you encounter any issues.)
Kitsun's first SVG deck is finally out! Learn the prefectures of Japan with additional visual input.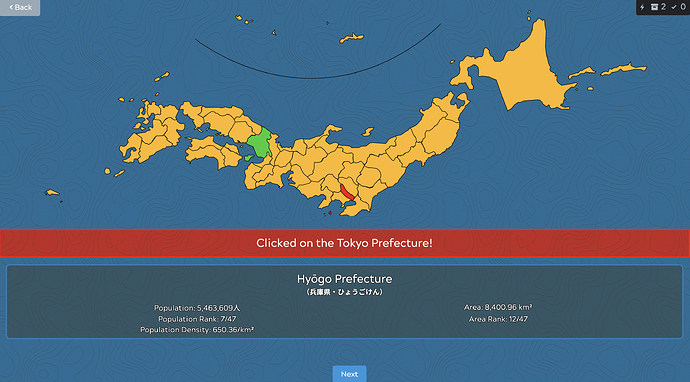 The deck contains the 47 prefectures and 7 regions of Japan, along with statistical data from 2019.
Currently there are two layouts:
Marked on Map: a prefecture/region is highlighted on the map, and you have to type in its name
Click on Map: you are given the name and must locate and click it on the map
The origin of all data and images are public domain (from Wikipedia/Wikidata).
---
Technical Discussion: Adding SVG images to cards
This deck uses some cutting edge features of Kitsun, expect unusual problems.
Know issues:
You cannot ignore answers from the "Click on Map" questions at the moment
You have to click "Next" to advance the "Click on Map" Cards, no hotkeys yet
The deck preview function doesn't really know what to do …
I wish you could somehow zoom the map on mobile, currently the is only a min-width and scrolling on small displays