Hi Kitsun,
1/ I noticed a problem while doing some reviews from a deck I created. Because a screenshot says more than a thousand words, please look at this: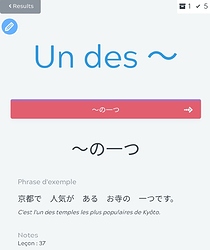 We can see that I have a problem with 〜 that seems to be not recognized.
Do you know how to handle this? Well, the better should be that I only have to write "の一つ". Maybe an option to add in HTML?
One easy answer could be to create a new field without 〜, but I think it's not really elegant.
2/ I have a quite similar problem when I write the answer (with occidental characters) while the word is in Katakana. The word is counted as false while the rômaji transformed in hiragana are correct. Any idea?
Feedback:
After importing some words from an external file, the app says that the importation worked well, but we stay on this page. It should be great to be automatically conduct to the deck we used to import the new words.
Using a computer, on the words page, if we have too many columns, we can take the up and down scroll only if we go far to the right with the left and right scroll. And it is not convenient (In my personnal case, I have an old laptop, and its pad doesn't have the possibility to go up and down with the fingers).
About the same subject of the previous point, one interesting nice feature could be to have the possibility to scroll the screen with arrow keys.