So, all of us know that our little mascot in here is a fox!! And what a cute and well-behaved fox it is!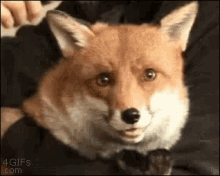 But have you ever wondered where the name comes from? Well, the name "Kitsun" itself is a derivation of the Japanese word for fox: kitsune! It all fits into place now, right?!
---
This is a thread to appreciate the cuteness of foxes, whether through pictures, gifs, stories… wherever your imagination takes you! So chill a bit from all your Kitsun reviews and spam away!